Nine native edibles we should all be growing in our gardens
Ironically, our native species are often last on the list of edibles we tend to grow in our backyard patches. And boy, are we missing out!
Choosing endemic or local species provides a lower maintenance and edible alternative to common exotic species. Many native edibles are already being used as street trees and plantings in our public spaces, but there are thousands more growing throughout Australia's diverse landscape.
I learnt a great deal about native plant uses by taking a guided tour in The Royal Botanic Garden Sydney, led by the Cadigal people.
Here are nine natives I've successfully grown (and loved to grow) throughout my Sydney gardens.
1. Midyim berries / Midgen / Austromyrtus dulcis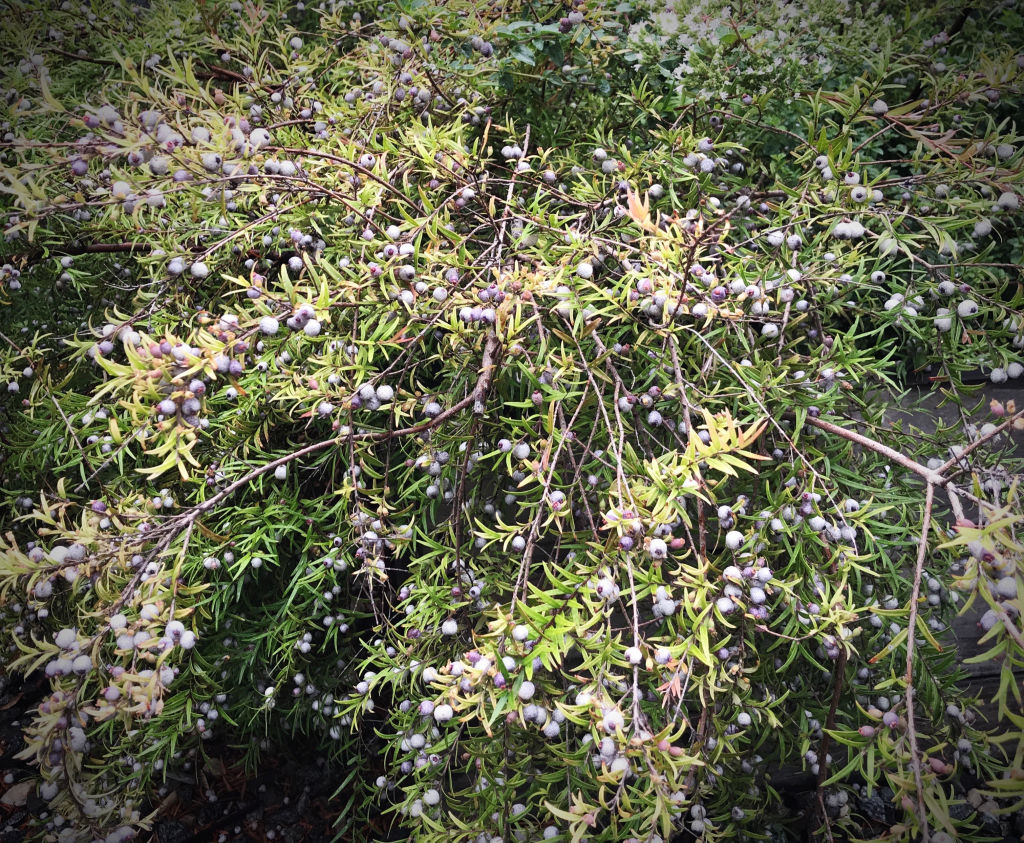 The Midyim berry is a super delicate pea-sized berry that tastes like a pink musk lolly. I've found they fruit best if grown in full sun, but have also had success growing them in shadier positions, mass planting under large trees or scattered in native gardens. I've since noticed the Midyim berry while bushwalking in the Royal National Park, and was grateful to be able to extend my rations that day.
2. River mint / Poang-gurk / Mentha australis 
The native river mint grows like your common mint in the same conditions. This one has smaller leaves, though, and in my opinion has a much brighter, mintier taste, too. It loves moist soil, is easily propagated from runners and will work well in a pot with a saucer (to retain some moisture) in full sun or part shade.
3. Finger lime / Gulalung / Citrus australasica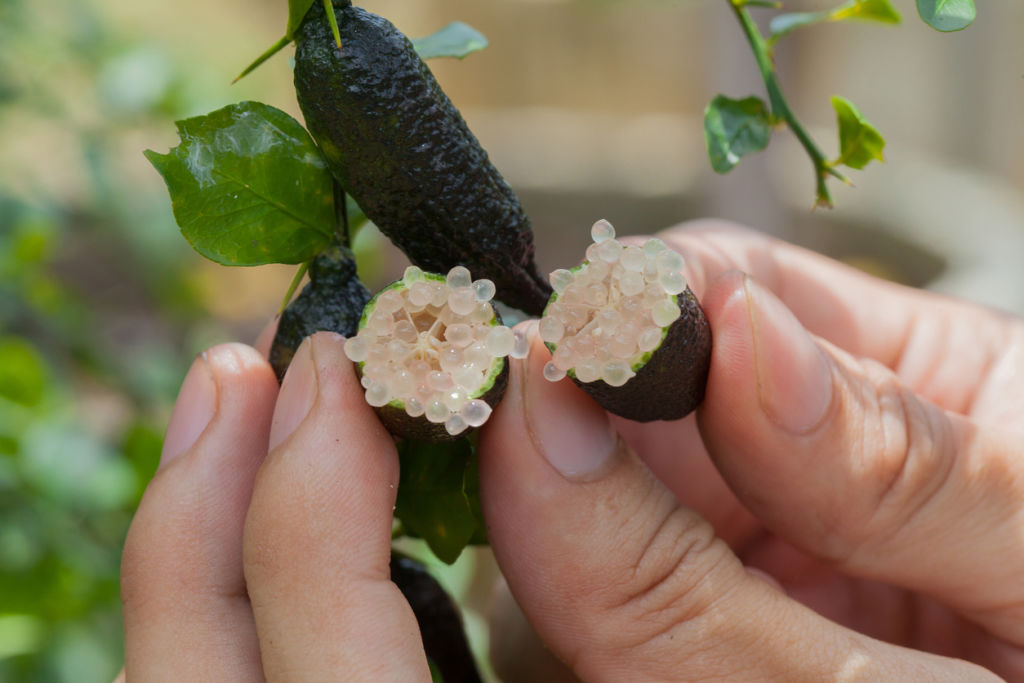 This is a thorny tree, but a hardy one. Once the trees get a few years old, you'll score a better crop of this interesting citrus. Several cultivars of coloured fruit are available and the smaller varieties will suit small gardens too.
4. Old Man Salt Bush / Purngep / Atriplex nummularia
Old Man Salt Bush is common through arid inland Australia, but in coastal areas you may see a similar species growing – Grey Salt Bush/Barilla. Purngep is a silvery leafed shrub that I have pruned to about 1 x 1 metres. It's growing happily in my sunny north-facing garden among other plants from similar climates such as ruby saltbush, rosemary and thyme. I often toss some of its fresh leaves in a hot pan with some olive oil to use as garnish on fish.
5. Riberry / Syzygium luehmannii
The riberry is similar to a lilly pilly, and you could eat them just the same. A common street tree bursting with red fruit in summer, the new leaves are a soft coppery colour. It's a great medium-sized tree for any urban garden if you're looking for something a bit different, but still edible.
6. Pigface / Carpobrotus glaucescens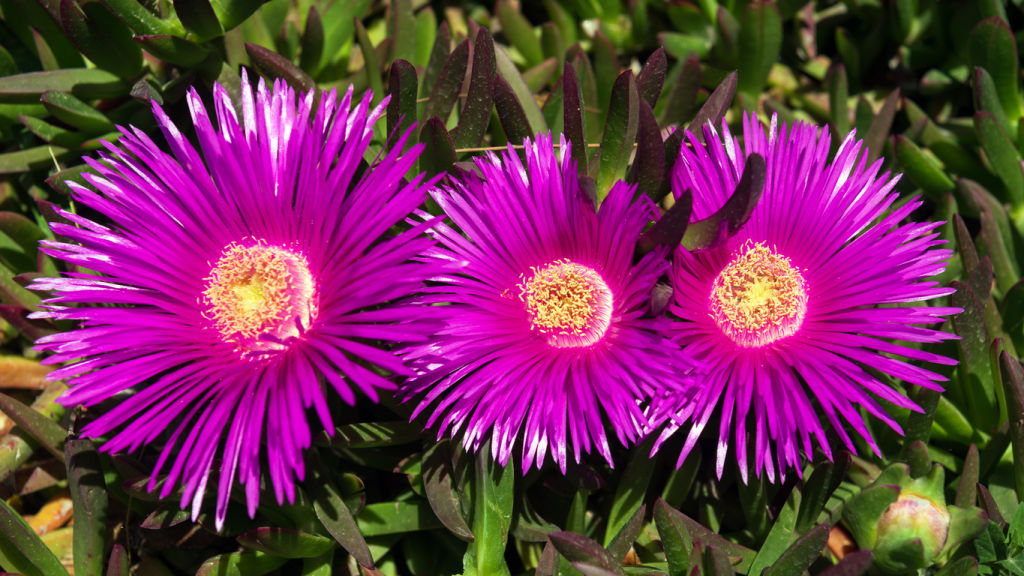 This sprawling pink-flowered succulent holds our beach dune system intact while also providing a sweet, kiwi fruit-flavoured little morsel after flowering. When the flower finishes you can see the deep purple coloured fruit swelling to indicate it is ripening.
Squeeze out the pulp and enjoy this deliciously sweet pop. It's the perfect snack-on-the-go after a surf if your eyes are peeled. We often use Pigface in low-water native gardens, rooftop gardens, coastal gardens, steep slopes or as a hardy ground cover.
7. Illawarra plum / Podocarpus elatus
The Illawarra plum is a low-maintenance tree that is native, edible, sun and shade tolerant, salt air tolerant and can be used as a hedge or as a feature tree. With its natural cone shape, and contrasting light and dark green foliage, this tree is a stunning addition to any Australian backyard. They are slow growing, but more established plants are available – just ask your local nursery to order one in for you.
8. Narrow-leaved gardenia / Atractocarpus chartaceus
This gardenia is native to the subtropical rainforests of NSW and QLD. I've got three planted in my "native forest" garden bed at home in the shade of taller pencil cedars and native tamarind trees. Fingers crossed we get some of the small red fruit to try this year.
9. Native gardenia / Atractocarpus fitzalanii